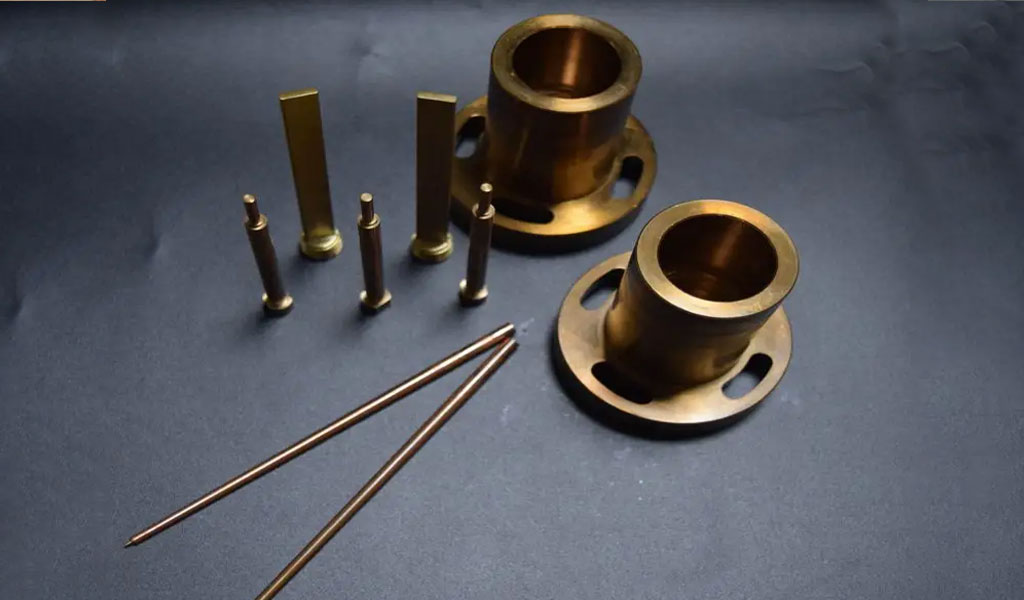 Beryllium copper is a copper alloy with beryllium as the main alloying element, also known as beryllium bronze. It is an elastic material in copper alloys, with high strength, elasticity, hardness, fatigue strength, small elastic lag, corrosion resistance, wear resistance, cold resistance, high conductivity, non-magnetic, no sparks when impacted, etc. – a series of excellent Physical, chemical and mechanical properties. High-performance beryllium copper mainly focuses on various working conditions of non-ferrous metal low-pressure and gravity casting molds. Through in-depth research on the failure cause, composition and internal relationship of metal liquid corrosion resistance of beryllium bronze mold materials, a high-conductivity (thermal) and high-strength mold has been developed. The beryllium bronze mold material with high performance, not easy to wear, high temperature resistance, good toughness and corrosion resistance of molten metal, solves the problems of low pressure of domestic non-ferrous metals, easy cracking and easy wear of gravity casting molds, and significantly improves the life of the mold , demolding speed and casting strength. Beryllium copper is an alloy with good mechanical, physical and chemical comprehensive properties. After quenching and tempering, it has high strength, elasticity, fatigue resistance and heat resistance, and is not easy to wear. At the same time, beryllium copper also has high electrical conductivity. , thermal conductivity, cold resistance and non-magnetic, no sparks when impacted, easy to weld and braze, good corrosion resistance in the atmosphere, fresh water and sea water. Beryllium bronze alloy is suitable for the manufacture of various molds and wear parts such as cams, gears, worm gears, bearings, etc.
Beryllium is difficult to machine on 5 axis because of its high ductility and high cold workability.Beryllium Copper alloys are often used in place of beryllium copper to improve machinability, especially when performing more intricate custom work. Completed operations include milling, slotting, drilling, tapping,counterboring, Completed operations include milling, slotting, drilling, tapping, counterboring, chamfering, threading, knurling, brazing, grooving, trimming, and nickel plating.
If you need assistance on your next beryllium copper machining project, the experts at Wonder Machining are here to help. Already have a part and drawing? Submit it to our easy to use online RFQ form, Get a fast free quote!
Contact Us For Learn More About Beryllium Cnc Machining Services
Choosing an expert CNC beryllium machining partner, like Wonder, is critical in ensuring your parts are well machined and delivered on time to your specifications. You can learn more about our beryllium copper and beryllium copper alloy CNC machining capabilities on our site. .

At present, with the market demand, the use and requirements of beryllium bronze are also
Read more
---
Mathematics model of beryllium copper alloy turning and milling roughness Using the orthogonal test method,
Read more
---

Beryllium copper tube is generally used as a large-scale mechanical bushing, and its main feature
Read more
---
The aging temperature of beryllium copper is related to the content of Be, and alloys
Read more
---
C17300 chromium zirconium copper is a kind of wear-resistant copper, with excellent hardness, excellent electrical
Read more
---

Beryllium bronze material, as a metal material with good comprehensive properties, has been widely used
Read more
---
Friends who are engaged in metal materials are not unfamiliar with beryllium copper. Beryllium copper
Read more